For the martial arts style, see Anything Goes Martial Arts.
| | |
| --- | --- |
| | This article may require cleanup to meet this wiki's standards. You can help out by re-organizing or re-writing parts of the article or checking grammar and spelling. |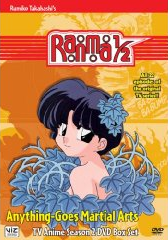 Technically, Ranma ½ was released as two series: Ranma ½ which ran for 18 episodes (the last of which was a clip show) and Ranma ½ Nettōhen (らんま½ 熱闘編) which ran for 143. The first Ranma TV series was canceled due to low ratings in September 1989 (despite its low ratings, the first 18-episode series is considered by some American fans to be the franchise's creative high point), then was retooled and brought back in December as the much more popular and much longer-running Nettōhen. "Anything-Goes Martial Arts" is the first season of "Nettōhen" and ran for 22 episodes.
The opening theme of this season is "Little★Date" (リトル★デイト Ritoru Deito) by Ribbon while the closing theme is "Don't Mind China Boy " (ド·ン·マ·イ 来々少年(ボイ) Don Mai Rairai Boi) by Etsuko Nishio. In Japan, both songs were used up to the 23rd Nettōhen episode, "Ranma Gains Yet Another Suitor" (which is part of the Hard Battle season). Furthermore, "Little★Date" was not used up to the 6th Nettōhen episode "Cool Runnings! The Race of the Snowmen"; it started airing only on the 7th, "The Abduction of P-Chan." Instead, the introductory piece "Ranma You Pervert" was the lone opening skit for the first 6th Nettōhen episodes; in succeeding episodes up to the 23rd Nettōhen episode, it follows "Little★Date" as a refresher.
Another interesting fact is several Nettōhen episodes were reordered in the English dub to put them closer to the events in the manga.
Airdates reflect first airing in Japan.
Series #

Season #

Nettōhen #

Title Card/Episode name

Original Air Date

SS Manga

Viz English Chapter Counterpart

Vol.

Ch.

19

1

7

December 8, 1989

3

6

Darling Charlotte

7

A Kiss in the Rink

20

2

8

December 15, 1989

8

Lips at a Loss

9

Lips at War

4

1

I'll Never Let Go

21

3

9

December 22, 1989

2

Burning the Bridges

3

Ryoga Explodes!

4

The Waters of Love

22

4

1

October 20, 1989

7

1

It's Fast or It's Free

2

Eyes on the Prize

3

Noodles, Anyone?

4

I Won't Eat It!

23

5

2

November 3, 1989

5

1

Looking for a Weak Spot

2

Weak Spot - Found!

3

Cat Hell

4

Cat-Fu

24

6

3

November 10, 1989

5

You'd Have Kissed Anybody?

6

Shampoo Rides Again

7

Attack of the Wild Mousse

25

7

4

November 17, 1989

10

The Phoenix Pill

11

All's Fair at the Fair

26

8

5

November 24, 1989

7

Attack of the Wild Mousse

8

The Martial Arts Magic Show

9

Cat's Tongue Got You?

27

9

6

December 1, 1989

6

1

War of the Melons

2

Naval Engagement

3

Kitten of the Sea

28

10

12

January 26, 1990

8

1

Instant Spring

2

No Need For Ranma

3

The Destroyer Strikes

4

Just One More Kiss

29

11

10

January 12, 1990

6

4

Care to Join Me?

5

Training Meals

30

12

11

January 19, 1990

6

The Breaking Point

7

The Immortal Man

8

Fast Break

31

13

13

February 2, 1990

10

4

The Abduction of...Akane?

5

Duck, Ranma, Duck!

32

14

14

February 9, 1990

6

Akane Becomes a Duck

7

Fowl Play

8

The Happiest Mousse

33

15

15

February 16, 1990

7

5

The Evil Wakes

6

He's Something Else

34

16

16

February 23, 1990

8

9

Quest for the Hidden Spring

10

The Trouble with Girls' Locker Rooms

11

From the Spring, Springs a Message

35

17

17

March 2, 1990
(anime expansion of japan Nanniichuan search)

36

18

18

March 9, 1990
(anime expansion of japan Nanniichuan search)

37

19

19

March 16, 1990

9

1

The Way the Cookie Crumbles

2

Negative Feelings

3

Take Me Out to the Bathtub

4

...I Ate the Whole Thing

38

20

20

March 23, 1990

7

9

The Wrath of Happosai

10

The Scent of a Woman

11

Fathers Know Best

39

21

21

April 6, 1990

8

5

Wherefore Art Thou, Romeo?

6

Romeo? Romeo? Romeo?!

7

Not Your Typical Juliet

8

A Kiss to the Victor

40

22

22

April 13, 1990

7

7

Bathhouse Battle
References
Edit
External links
Edit