For the martial arts style, see Anything Goes Martial Arts.
| | |
| --- | --- |
| | This article may require cleanup to meet this wiki's standards. You can help out by re-organizing or re-writing parts of the article or checking grammar and spelling. |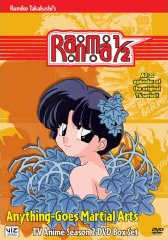 This article lists the first 22 episodes of Ranma ½ Nettōhen (らんま½ 熱闘編), released by Viz as the second season of Ranma ½ or "Anything-Goes Martial Arts".
Viz first released the episodes across eleven VHS tapes. Viz would later release a VHS boxset and a DVD boxset.[1]
While the opening song Little☆Date was originally only used for Nettohen episodes 7-13, Viz placed the opening at the beginning of all the episodes part of their Anything-Goes Martial Arts VHS and DVD sets.
Episodes
Episodes 19-30
Old Viz #

Original #

Title Card/Episode name

Original Air Date

SS Manga

Viz English Chapter Counterpart

Vol.

Ch.

19

25

December 8, 1989

3

6

Darling Charlotte

7

A Kiss in the Rink

20

26

December 15, 1989

8

Lips at a Loss

9

Lips at War

4

1

I'll Never Let Go

21

27

December 22, 1989

2

Burning the Bridges

3

Ryoga Explodes!

4

The Waters of Love

22

19

October 20, 1989

7

1

It's Fast or It's Free

2

Eyes on the Prize

3

Noodles, Anyone?

4

I Won't Eat It!

23

20

November 3, 1989

5

1

Looking for a Weak Spot

2

Weak Spot - Found!

3

Cat Hell

4

Cat-Fu

24

21

November 10, 1989

5

You'd Have Kissed Anybody?

6

Shampoo Rides Again

7

Attack of the Wild Mousse

25

22

November 17, 1989

10

The Phoenix Pill

11

All's Fair at the Fair

26

23

November 24, 1989

7

Attack of the Wild Mousse

8

The Martial Arts Magic Show

9

Cat's Tongue Got You?

27

24

December 1, 1989

6

1

War of the Melons

2

Naval Engagement

3

Kitten of the Sea

28

30

January 26, 1990

8

1

Instant Spring

2

No Need For Ranma

3

The Destroyer Strikes

4

Just One More Kiss

29

28

January 12, 1990

6

4

Care to Join Me?

5

Training Meals

30

29

January 19, 1990

6

The Breaking Point

7

The Immortal Man

8

Fast Break
Episodes 31-40
#

Title Card/Episode name

Original Air Date

SS Manga

Viz English Chapter Counterpart

Vol.

Ch.

31

February 2, 1990

10

4

The Abduction of...Akane?

5

Duck, Ranma, Duck!

32

February 9, 1990

6

Akane Becomes a Duck

7

Fowl Play

8

The Happiest Mousse

33

February 16, 1990

7

5

The Evil Wakes

6

He's Something Else

34

February 23, 1990

8

9

Quest for the Hidden Spring

10

The Trouble with Girls' Locker Rooms

11

From the Spring, Springs a Message

35

March 2, 1990
(anime expansion of japan Nanniichuan search)

36

March 9, 1990
(anime expansion of japan Nanniichuan search)

37

March 16, 1990

9

1

The Way the Cookie Crumbles

2

Negative Feelings

3

Take Me Out to the Bathtub

4

...I Ate the Whole Thing

38

March 23, 1990

7

9

The Wrath of Happosai

10

The Scent of a Woman

11

Fathers Know Best

39

April 6, 1990

8

5

Wherefore Art Thou, Romeo?

6

Romeo? Romeo? Romeo?!

7

Not Your Typical Juliet

8

A Kiss to the Victor

40

April 13, 1990

7

7

Bathhouse Battle
Home Video Releases
VHS Volumes
| VHS Name | Content | Release Date (Dub) | Release Date (Sub) |
| --- | --- | --- | --- |
| Darling Charlotte | Episodes 25-26 | March 1995 | May 1996 |
| It's Fast or It's Free | Episodes 27/22 | April 1995 | June 1996 |
| Cat-Fu Fighting | Episodes 20-21 | May 1995 | July 1996 |
| Chestnuts Roastingo on an Open Fire | Episodes 22-23 | June 1995 | August 1996 |
| Cold Competition | Episodes 24/30 | August 1995 | September 1996 |
| The Breaking Point | Episodes 28-29 | September 1995 | October 1996 |
| Fowl Play | Episodes 31-32 | October 1995 | December 1996 |
| The Evil Wakes | Episodes 33-34 | November 1995 | February 1997 |
| Goodbye Girl-Type | Episodes 35-36 | December 1995 | April 1997 |
| Tough Cookies | Episodes 37-38 | January 1996 | August 22, 1997[2] |
| Ranma and Juliet | Episodes 39-40 | March 1996 | October 24, 1997[3] |
Dub VHS Boxset
| VHS Name | Content | Release Date |
| --- | --- | --- |
| Ranma 1/2 Anything-Goes Box Set | Episodes 25-27, 22, 20-24, 30, 28-29, 31-40 | June 1997 |
References
External links