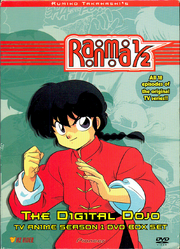 This article lists the episodes of the original Ranma ½ anime series, released by Viz as the first season of Ranma ½ or "Digital Dojo".
It began airing on April 15, 1989 and concluded on September 16, 1989. In Japan, the series was cancelled after its conclusion in September, but was brought back in October of the same year as the longer running Ranma ½ Nettōhen (らんま½ 熱闘編, Ranma ½ Nettōhen?).[1]
One opening and two closing themes were used for this series. The opening theme is "Don't Make Me Wild Like You," also known as "Don't Make Me a Shrew" by Etsuko Nishio. The first ending theme "Let's Keep It Friends" by Kaori Sakagami, is used for the first thirteen episodes and is replaced by "Equal Romance" by CoCo for the last five episodes.
Plot Summary
Edit
Ranma Saotome, along with his father, Genma, arrive at the Tendo Dojo, which belongs to Genma's old friend Soun. During their first night Ranma and Genma reveal that they both suffer from curses which were given to them when they fell into the cursed springs of Jusenkyo.[2] The next day Ranma has to go Furinkan High School, along with his new fiancé Akane Tendo and her sister Nabiki.[3] While at the School Ranma develops a rivalry with Upperclassman Kuno, who eventually falls in love with the cursed form of Ranma. However, Kuno doesn't realise that Ranma and his "pigtailed girl" are the same person.[3][4][5]
Akane then injures her father, Soun, and promises never to hurt anything again. She then quickly breaks this promise by damaging Ranma's neck, which is quickly fixed by Dt. Tofu. Meanwhile, the boys at Furinkan High School stop fighting for Akane's love and Akane realises that her other sister, Kasumi, is in love with Dr. Tofu (who Akane has always had a secret crush on).[6][7] Akane then becomes depressed and Ranma decides to go on a date with her in an attempt to cheer her up.[7] An old rival of Ranma, Ryoga Hibiki, then arrives in Furinkan and challenges Ranma over a piece of bread that Ranma took from Ryoga a few years ago.[8] The two end up fighting and, despite the best efforts of the Chemistry Club, Ranma wins but Akane's hair end's up being cut.[9]
Episode #
Title Card/Episode name
Original Air Date
SS Manga
Viz English Chapter Counterpart
Vol.
Ch.

1

April 15, 1989
1
1
Here's Ranma
2
Ranma's Secret

2

April 22, 1989
3
I Hate Men!
4
Never, Never, Never

3

April 29, 1989
5
To the Tree-Borne Kettle-Girl

4

May 6, 1989
6
Body and Soul
7
You'll Understand Soon Enough

5

May 13, 1989
8
Because There's a Girl He Likes

6

May 20, 1989
2
1
You're Cute When You Smile

7

May 27, 1989
2
The Hunter
3
Bread Feud

8

June 3, 1989
4
Showdown!
5
A Bad Cut

9

June 17, 1989
6
Who Says You're Cute?
7
The Transformation of Ryoga

10

July 1, 1989
8
He's Got a Beef

11

July 15, 1989
9
Kodachi, the Black Rose
3
1
The Love of the Black Rose

12

July 22, 1989
2
Take Care of My Sister
3
I'll See That You Lose

13

July 27, 1989
4
Hot Competition
5
I Give Up

14

August 19, 1989
(anime exclusive storyline)

15

August 26, 1989
4
5
Kiss of Death
6
You I Love

16

September 2, 1989
7
Akane Gets Shampooed
8
Shampoo Cleans Up

17

September 9, 1989
9
Formula #911
10
Bie Liao (Goodbye)

18

September 16, 1989
(season "clip show")
In the opening theme animation, several characters from the series appear but their hair colors differ from how they appear in the series itself, such as Shampoo having green hair instead of blue and Kodachi Kuno's hair being several shades lighter.
References
Edit
External links
Edit