For the video game, see Ranma ½: Hard Battle.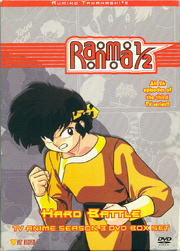 Hard Battle
, or
Ranma ½ Hard Battle
is the third season of the series. It aired from April 20 through September 21, 1990 and consist of 24 episodes. Episodes in this season are Nettōhen episodes 23-45 in order, with one exception: Nettōhen episode 51 is inserted as episode 63, between Nettōhen episodes 44 and 45. It was broadcast as part of season 4 in Japan.
The opening theme of this season is "Full of Memories" (思い出がいっぱい Omoide ga Ippai) by CoCo while the closing theme is "Lambada Ranma" (乱馬ダ☆RANMA Ranbada Ranma) by the "Ranma ½ Choral Ensemble," composed of the anime's original seiyū. In Japan, "Full of Memories" was used as the opening theme for the 24th to the 45th Nettōhen episodes and "Lambada Ranma" concludes each of the 24th to the 38th Nettōhen episodes. A second closing song, "Present" (プレゼント Purezento) by Tokyo Shōnen, was used in the 39th to 54th Nettōhen episodes; it was never heard in the English dub. In fact, the closing song for Ranma ½: Outta Control, "Friends" (フレンズ Furenzu) by YAWMIN, was mislabeled as "Present" during the first eight episodes of that season.
Series #

Season #

Nettōhen #

Title Card/Episode name

Original Air Date

SS Manga

Viz English Chapter Counterpart

Vol.

Ch.

41

1

23

April 20, 1990

9

5

"Okonomiyaki" Means "I Love You"

6

Saucy Reply

7

Ukyo's Secret

42

2

24

April 27,1990

8

Ryoga vs. Ukyo

9

Love Letters in the Sauce

10

Ryoga's What?!

11

At Long Last... the Date!

43

3

25

May 4, 1990

11

7

Embraceable You

8

Hold Me Close

44

4

26

May 11, 1990

4

The Ultimate Technique

5

Get the Secret Scroll!

6

The Fire-Burst of Terror!

45

5

27

May 18, 1990

10

9

Tsubasa Kurenai Busts Loose!

10

Lunchtime Lunacy

11

The Perfect Match

46

6

28

May 25, 1990

N/A

N/A

N/A

47

7

29

June 1, 1990

11

9

Akane's Power-Up!

10

Super Badminton

11

Serious Side Effects

48

8

30

June 8, 1990

N/A

N/A

N/A

49

9

31

June 15, 1990

N/A

N/A

N/A

50

10

32

June 22, 1990

N/A

N/A

N/A

51

11

33

June 29, 1990

N/A

N/A

N/A

52

12

34

July 6, 1990

N/A

N/A

N/A

53

13

35

July 13, 1990

10

1

Happosai Days Are Here Again

2

One Moment to Love

3

I Won't Fall in Love!

54

14

36

July 20, 1990

N/A

N/A

N/A

55

15

37

July 27, 1990

N/A

N/A

N/A

56

16

38

August 3, 1990

N/A

N/A

N/A

57

17

39

August 10, 1990

N/A

N/A

N/A

58

18

40

August 17, 1990

N/A

N/A

N/A

59

19

41

August 24, 1990

N/A

N/A

N/A

60

20

42

August 31, 1990

N/A

N/A

N/A

61

21

43

September 7, 1990

12

7

The Soap of Happiness

8

Cupids, Draw Back Your Bow

9

Don't Follow Me

10

Who Do You Love?

11

Give Me a Little Hug

62

22

44

September 14, 1990

N/A

N/A

N/A

63

23

51

November 9, 1990

N/A

N/A

N/A

64

24

45

September 21, 1990

N/A

N/A

N/A
External links
Edit