About Ranma ½
Ranma ½ (

らんま½

Ranma Nibun-no-Ichi

?

, pronounced Ranma One-Half) is a Japanese manga series written and illustrated by Rumiko Takahashi. It was originally serialized in Shogakukan's Weekly Shōnen Sunday from September 1987 to March 1996, and later collected into 38 tankōbon volumes. The story revolves around a 16-year old boy named Ranma Saotome who was trained from early childhood in martial arts. As a result of an accident during a training journey, he is cursed to become a girl when splashed with cold water, while hot water changes him back into a boy.
Characters
WikiaAnime Twitter Feed
Featured Article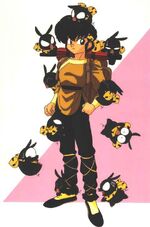 Ryoga Hibiki (響 良牙, Hibiki Ryōga?) is Ranma Saotome's eternal rival, the only one he has outright stated to truly consider as such. He is one of the most powerful fighters in Ranma ½ and arguably the tritagonist of the series.
Following Ranma's transfer to his middle school, Ryoga soon grew a deep hatred towards him as Ranma constantly bested him in getting the last servings of bread during the school lunch break. This lead Ryoga to challenge Ranma to a duel, however, Ryoga's lacking of a sense of direction led him to wander for four days before finally reaching the agreed location of their fight. Once Ranma left, a begrudged Ryoga followed him doggedly, even arriving at the legendary springs of Jusenkyo.
Affiliates