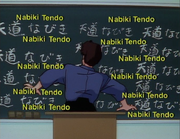 This is a page describing the possible romantic relationship between Nabiki Tendo and Tatewaki Kuno, including hints.
Canonically, Nabiki and Kuno not only do not share a romantic relationship, but actively seem to dislike each other: Kuno is disdainful of Nabiki's mercenary ways and constant swindling of money (particularly from himself), while Nabiki seems to regard Kuno as nothing more than a vaguely amusing, more often irritating, source of frequent cash. However, a number of fans believe that the two have the potential to establish a romantic relationship, noting the somewhat playful teasing and insults that Nabiki gives Kuno (particularly in the anime, where she mockingly calls him "Kuno-baby" -- "Kuno-chan" in original manga), the fact that she has done small favors for Kuno (such as taking him to the nurse's room after Ranma first knocks him out cold), and, in a less idealistic note, the fact that Nabiki enjoys manipulating others and money, whereas Kuno is both easily manipulated and very rich.
Judging from his actions Kuno has a fondness for strong and independent women. Nabiki is very independent and while not strong physically, she has a very strong personality. Indeed, in the anime episode mentioned below, Kuno mentioned he liked her cool demeanor, devil may care attitude, and intelligence.
The anime and the manga have each hosted a story where the idea of Nabiki and Kuno as a couple was brought up, and both times it was treated as a joke and the two were shown to have no interest in each other. That said, the same thing happens with virtually every other relationship in the series.
Possible moments
Edit