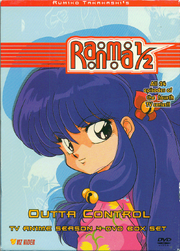 Outta Control, or Ranma ½ Outta Control is the fourth season of the series. It aired from October 5, 1990 - April 19, 1991 and consists of 24 episdoes.
The opening theme of this season is "No Way! Part 2" (絶対! Part 2 Zettai! Pāto Tsū) by Yoshie Hayasaka while the closing theme is "Friends" (フレンズ Furenzu) by YAWMIN. In Japan, "No Way! Part 2" was used as the opening theme for the 46th to the 69th Nettōhen episodes and "Friends" concludes each of the 55th to the 69th Nettōhen episodes. In the first eight episodes of this season, "Friends" is mislabeled as another song, "Present" (プレゼント Purezento) by Tokyo Shōnen, before it was corrected. "Present" was never actually heard in the English dub.
An interesting fact is the insertion of the 51st Nettōhen episode, "Ukyo's Skirt! The Great Girly-Girl Gambit," into the previous season, Hard Battle, and the inclusion of the 72nd Nettōhen episode, "Ling-Ling & Lung-Lung Strike Back!," into this season. The 71st and 73rd Nettōhen episodes are among the fifth season of English dub episodes known in as Ranma ½: Martial Mayhem.
Series #

Season #

Nettōhen #

Title Card/Episode name

Original Air Date

SS Manga

Viz English Chapter Counterpart

Vol.

Ch.

65

1

46

October 5, 1990

12

1

The Return of the Principal

2

Journey into the Principal's Office

3

The Principal of the Thing

4

One Hairy Day

5

Shear Folly

66

2

47

October 12, 1990

N/A

N/A

N/A

67

3

48

October 19, 1990

13

1

The Legendary Moxibustion of Evil

2

The World's Weakest Man

3

Weak for Life?!

68

4

49

October 26, 1990

4

The Valley of Moxibustion

5

Training in the Spiral of Hell

6

The Inflammable Man

7

The Roar of Heaven

69

5

50

November 2, 1990

8

The Great Rematch

9

St. Happosai

10

Burn, Happy, Burn

11

The Paper Chase

14

1

Ranma Reborn

70

6

52

November 16, 1990

N/A

N/A

N/A

71

7

53

November 23, 1990

N/A

N/A

N/A

72

8

54

November 30, 1990

14

2

Who Will Bell the Cat?

3

Kitty Takes a Bride

73

9

55

December 7, 1990

N/A

N/A

N/A

74

10

56

December 14, 1990

N/A

N/A

N/A

75

11

57

December 14, 1990

14

6

Step Outside!

76

12

58

January 11, 1991

N/A

N/A

Moonlight Serenade

77

13

59

January 18, 1991

N/A

N/A

N/A

78

14

60

January 25, 1991

N/A

N/A

N/A

79

15

61

February 1, 1991

14

7

The Mark of the Gods

8

Face Off!

9

The Mark of the Pig

80

16

62

February 8, 1991

10

Akane Guesses the Secret!

81

17

63

February 15, 1991

N/A

N/A

N/A

82

18

64

February 22, 1991

15

1

When You Wish upon a Sword

2

May I Cut In?

3

The Final Wish

83

19

65

March 1, 1991

N/A

N/A

N/A

84

20

66

March 8, 1991

N/A

N/A

N/A

85

21

67

March 15, 1991

15

4

The King Is Wild

5

Never Bet Your Life

6

Put on a Poker Face

7

The Virtues of Training

86

22

68

March 22, 1991

N/A

N/A

N/A

87

23

69

March 29, 1991

N/A

N/A

N/A

88

24

72

April 19, 1991

N/A

N/A

N/A
External links
Edit