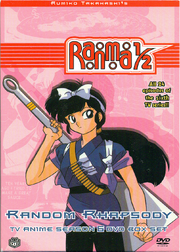 Random Rhapsody, or Ranma ½ Random Rhapsody, is the sixth season of the series. It aired from September 27, 1991 through April 3, 1992 and consists of 24 episodes.
The opening theme of this season is "Don't Cry Anymore" (もう泣かないで, Mō Nakanaide) by Azusa Senou while the closing theme is "POSITIVE" by Miho Morikawa.
Episodes are presented as packaged by Viz. Notations are made where this order does not match the original air order; out-of-sequence dates are italicized, and out-of-sequence Nettōhen episode numbers are bolded.
Series #

Season #

Nettōhen #

Title Card/Episode name

Original Air Date

SS Manga

Viz English Chapter Counterpart

Vol.

Ch.

113

1

95

September 27, 1991

N/A

N/A

N/A

114

2

96

October 4, 1991

N/A

N/A

N/A

115

3

97

October 11, 1991

N/A

N/A

N/A

116

4

98

October 18, 1991

N/A

N/A

N/A

117

5

99

October 25, 1991

N/A

N/A

N/A

118

6

100

November 1, 1991

N/A

N/A

N/A

119

7

101

November 15, 1991

N/A

N/A

N/A

120

8

102

November 29, 1991

N/A

N/A

N/A

121

9

108

January 24, 1992

19

1

Melonhead

2

The Horror of Party Beach

3

Catcher in the Rind

122

10

103

December 6, 1991

N/A

N/A

N/A

123

11

104

December 13, 1991

N/A

N/A

N/A

124

12

112

February 21, 1992

6

11

Proposal Accepted

125

13

105

December 20, 1991

N/A

N/A

N/A

126

14

106

January 10, 1992

N/A

N/A

N/A

127

15

113

February 28, 1992

N/A

N/A

N/A

128

16

107

January 17, 1992

17

11

The Curse of the Scroll

129

17

109

January 31, 1992

N/A

N/A

N/A

130

18

114

March 6, 1992

19

9

Nightmare on Hot Springs Street

131

19

110

February 7, 1992

4

The Sauce of Ten Years

5

For the Love of Sauce

6

The Truth About the Truth

132

20

111

February 14, 1992

7

The Honeymoon Period

8

Please Hate Me

133

21

117

March 27, 1992

N/A

N/A

N/A

134

22

115

March 13, 1992

19

10

Paper Dolls of Love

135

23

116

March 20, 1992

N/A

N/A

N/A

136

24

118

April 3, 1992

19

11

The Pill of Obedience
External Links
Edit