Ranma ½: Chougi Rambuhen (らんま1/2 超技乱舞篇, Ranma ½: Chougi Rambuhen?), alternatively spelled as Chougi Ranbu Hen, is one of three Ranma ½ fighting games that was released for the Super Nintendo Entertainment System. It was to have been released in the United States as the sequel to Ranma ½: Hard Battle as Ranma ½ II: Anything Goes Martial Arts by DTMC, which had adapted Bakuretsu Rantou-hen into Hard Battle. However DTMC's going out of business precluded this from happening, resulting in cancellation. The title directly translates as "Super Skill Wild Dance Chapter", but it is commonly referred to as "Super Hard Battle".[1]
Overview
In the story mode, the player's chosen character gets a letter explaining that they just received the recipe to the most valuable of all treasures, the Maneki Neko, which has the ability to grant any wish. The character must then set out to find the 12 ingredients of the Maneki Neko, located all over the world, before one of their rivals does the same.
Gameplay
Chougi Rambuhen has three modes of play: story, versus and tag team, where players can choose two characters to play as and can switch players by walking to their edge of the screen and holding Select, but only if the fighting character's health bar is lower than the other character. Whilst out of the fight, the other character will slowly regain health. There are twelve characters in the game, thirteen if Ranma's cursed form is counted, with eleven playable at the start of the game. By holding L and R before the character selection screen appears, Herb also appears as a playable character.
Playable Characters
Planned Western Release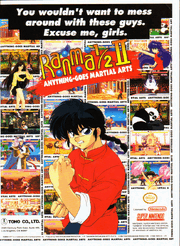 After the successful release of Hard Battle, Toho had planned to release Chougi Rambihen as a sequel under the title "Ranma ½ II: Anything-Goes Martial Arts". The game was advertised[2] but unfortunately Toho cancelled the game due to poor sales of their prior Japanese game that was published in the US, Super Godzilla. Since then a rumour developed regarding Rumiko Takahashi claiming to have been appalled by the poor voice acting in Hard Battle,[2] possibly indicating another reason why the game was never released.
Trivia
Kuno, Ukyo, Hinako, Shampoo, and Herb are the only characters who get their wishes without them backfiring in some manner.
References
External links