Ranma and Kuno's... First Kiss (らんまと九能の初キッス?!, Ranma to Kunō no Hatsu Kisu?!?) is the 64th episode of Ranma ½ Nettohen.
Kuno's got a magic sword capable of granting 3 wishes, and Ranma smells a cure for his curse. The "upperclassman" has already used two of them... How far is Ranma willing to go to get the third?
Relation to Previous Episode
None.
Plot Summary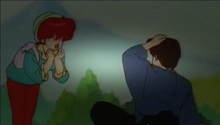 Cast in Order of Appearance
Quotes
Trivia
The statue of commemoration is much larger in the anime. In the manga the statue is a small one about the size of the Kuno head statue in the beginning of the episode.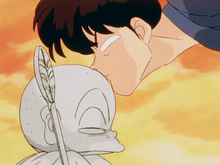 A Jinzo Statue of Cherry from Urusei Yatsura makes a cameo.
References
See Also