For the technique, see Bakusai Tenketsu.
The Breaking Point (爆砕点穴, Bakusai tenketsu?) is the 53rd chapter of the manga and the third chapter of the Breaking Point Arc.
Synopsis
Ryoga trains intensely and Ranma comes over to their camp to check on things. He tries Akane's food one more time, but still hates it. He asks her not to kill Ryoga with her horrible cooking before their match and then reports back to Genma about what he saw Ryoga trying to do. Genma explains the Bakusai Tenketsu, or Breaking Point, technique to Ranma, telling him that everything in nature, men, rocks, plants, all have a breaking point that will cause them to shatter with just a touch.
Plot Overview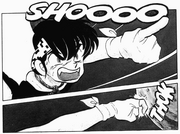 Still somewhere in wilderness, Ryoga is suspended from a tree via a complex series of ropes. A large boulder then comes hurtling towards him. Ryoga attempts to destroy the boulder with his one free finger, but it just bends on impact so Ryoga gets hit by the boulder. Cologne then appears and demonstrates again that he needs to hit the breaking point.
Akane watches, cooking some food for after Ryoga's finished while she does, as the ghoul destroys the boulder with ease and sprays Ryoga with it's remnants. She then thinks about how Ranma wouldn't stand a chance should Ryoga be able to master the technique.
Just then Akane notices Ranma has snuck up and tried some of her food, but still finds it's horrible. Seeing this, Akane asks Ranma that if he hates her food then why does he eat it, which Ranma acknowledges as a good point. Akane is about to hit Ranma, when the ghoul notices him and ask Ranma if he's come to check up on them.
Akane quickly notices Ryoga's state from the training so slams a tray into Ranma's face before running over to Ryoga. She continues by holding Ryoga and asking him if he's alright. Seeing this, the ghoul taunts Ranma about his own girl tossing him aside, but Ranma just laughs it off.
Having seen enough, Ranma prepares to leave which causes the ghoul to question Ranma's decision as she was sure he'd want to take back his fiancé. Ranma replies that he was just worried, which touches Akane. Unfortunately, these feelings don't last long as Ranma tells Akane not to poison Ryoga with her food, which angers Akane greatly so she kicks Ranma high into the air.
The ghoul admires the strength of Akane's kick and calls Ranma fickle for not coming back, she continues by asking Akane if she'd even thought by changing her fiancé to Ryoga but doesn't get an answer. Ryoga then comes to and tells the ghoul that the only thing on his mind is defeating Ranma! Akane sees the determination in Ryoga's eyes and begins to wonder what will happen to Ranma.
Back at Ranma's camp, and Ranma reports to Genma what he saw Ryoga trying to with his training (i.e. breaking a boulder with one finger). Genma quickly recognises the technique as the "Bakusai Tenketsu" (Breaking Point) then explains to Ranma that everything on Earth has a special vulnerable point called the breaking point. Ranma takes this as meaning that so long as Ryoga doesn't touch him he'll be fine.
Genma decides to test Ranma and attacks a beehive, telling Ranma to knock out all of the bees without getting stung. As Ranma runs from the angered bees, Genma explains that by being able to do this he won't need to fear the Bakusai Tenketsu. Ranma tries his luck and attempts to do as Genma asks, but fails and gets stung several times. Ranma continues by thinking to himself that he'll show Akane and that there's no way he's going to lose.
Returning to Ryoga, and he's continuing to master the Bakusai Tenketsu. He is now able to jab holes into the boulder, however, the ghoul notes that this isn't good enough and he won't be able to find the breaking point with other things on his mind. Ryoga retorts that he doesn't have anything on his mind, but the ghoul reveals that while he's been jabbing the boulder he's spelt out Akane's name (Akane herself is fast asleep in her tent).
The day of the fight arrives, and Ryoga and Ranma prepare to face each other. Akane is then seen tied to a tree (with her arms tied behind her back as well), demanding to know what the big idea is. The ghoul explains that she thought it would be more interesting if there was a prize on the line. Being described as a "prize" angers Akane, although she can't do anything while suspended from the tree.
Ranma and Ryoga are about to begin fighting, while Akane tries to get their attention again. She soon gives up and looks on silently and unimpressed.
Cast in Order of Appearance
Quotes
To be added
Trivia
To be added
References
See Also