Summary
TBA
Characters
TBA
Chapters
Chapter #
Title
1
"Here's Ranma"
(らんまが来た, "Ranma ga Kita")
TBA
2
"Ranma's Secret"
(らんまの秘密, "Ranma no Himitsu")
TBA
3
"I Hate Men!"
(男なんか大っ嫌い, "Otoko nanka Daikkirai")
TBA
4
"Never, Never, Never"
(断じて認めん, "Danjite Mitomen")
TBA
5
"To the Tree-Borne Kettle-Girl"
(木の上のヤカンの女へ, "Ki no Ue no Yakan no Onna e")
TBA
6
"Body and Soul"
(心も体も, "Kokoro mo Karada mo")
TBA
7
"You'll Understand Soon Enough"
(すぐにわかるよ, "Sugu ni Wakaru yo")
TBA
8
"Because There's a Girl He Likes"
(好きな女がいるんだから, "Suki na Hito ga Irun Dakara")
TBA
I am from American and English is my language. I own Ranma ½ Volume 1-36 (first edition), Volumes 1-19 (second edition), Ranma ½ (DVD Remaster), Urusei Yatsura Volumes 1-11 (omnibus edition), InuYasha 3-in 1 editions manga, Rinne Volumes 1-40 Volumes, Maison Ikkoku Collector's Edition Volumes 1-4, InuYasha anime DVDs and Blu-ray, I enjoy Rumiko Takahashi's works.
I am also founder of MAO Wiki, new latest manga work of Rumiko Takahashi.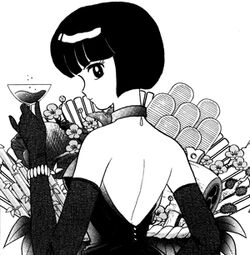 Nabiki has been stated to not possess any 'maidenly feelings', or 'be completely heartless' in the initial author notes of the Kasha-Oh story-arc, depending on the translation.[1] She has used her classy and attractive appearance to fleece and swindle any potential suitors for all they are worth, conning them into giving her expensive food, clothes and jewellery. At the point she's gauged that they've reached their financial limit, she immediately breaks up the relationship and blackmails them to pay her additional money afterwards by threatening to distribute their love-letters.[2] Nabiki is very good at faking amorous emotions to fit her needs. She thinks it's amusing to repeatedly manipulate and abuse Ranma's feelings with sadistic play-acting.[3] An (unsuccessful) rival swindler may have been another victim of this deception.[4]
In the anime Nabiki and Kuno have been implied as a potential couple in the episode "Extra, Extra Read All About IT! Kuno and Nabiki!" where Kuno was told by a famous fortune teller named Gendo, on the basis of a fire reading that had been unintentionally sabotaged by Sasuke, that she was the love of his life. He started trying to forget about Akane and the pigtailed girl. Nabiki was amused by his affection, but didn't take him too seriously. When the fortune teller explained his mistake, Kuno stopped trying to force himself to love her (although he had already angered Nabiki, Akane and Ranma by declaring to the school that he would wed Nabiki and keep the other two girls as his mistresses after girl Ranma accused him of abandoning her).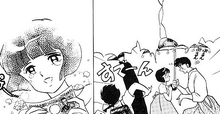 Another implication sign of love was in the second movie where he attempted to save Nabiki but ended up needing her help, and in the OAV this was seen more often, such as in the OAV Oh, Cursed Tunnel of Lost Love! Let My Love Be Forever, Nabiki and Kuno managed to go through the cave without getting separated.
The manga also has a gag about the two in 'The Umbrella of Love!' story, when the two fell under the titular magic umbrella. Nabiki asked for 1000 Yen as proof his love and tearfully stated she'd treasure the money for the rest of her life, once the umbrella was removed Kuno was in shock, whilst Nabiki is annoyed she didn't ask for more money when under the magic umbrella.
I start to read Ranma ½ manga when I was high school student. I am huge fan of Inuyasha, Rin-ne and MAO. I also own Ranma ½ Volumes 1-36 (first edition) and Box Set DVD, Movies (Remaster from 2016).
My Favorite Characters
My Rumiko Takahashi Series Experience
Series I've Watched
InuYasha
Ranma ½
Rin-ne
Maison Ikkoku
Urusei Yatsura
Yashahime: Princess Half-Demon
Series I've Read
InuYasha
Ranma ½
Excuse Me for Being a Dog!
Rin-ne
MAO
Maison Ikkoku
Urusei Yatsura
Wikis that I'm following:
Welcome to My User Page!
Hello! I'm one of this wiki's admins, Kitsunes97
You can call me Kitsune. This are the other wiki's I work and manage (I'm admin/bureaucrat), and that I am active in ~
| | | |
| --- | --- | --- |
| Bureaucrat | Admin | Content Moderator |